Virginie Coupery-Eiffel has been actively working since 2014 to ensure the annual success of the Parisian Eiffel Tower jumps. The great-great-granddaughter of Gustave Eiffel, she is the president of the competition for which she is preparing the eighth edition of the event, which will take place at the foot of the Iron Lady from 24 to 26 June. Behind THE GRAND PRIXthe owner of Château Bacon is back in preparation for this important event.
---
---
What mood are you in just over a month before the eighth edition of the Longines Paris Eiffel Jumping?
We are in full swing, it is very exciting and creative at the same time. This will be the second edition of Jacques Ruff. The event will be open to as many people as possible, everything will be bigger, more festive and redesigned. The village is open and accessible to everyone, it is very important to be able to receive in Paris people who walk and are not necessarily familiar with our sport. The idea is to welcome and interest everyone, to see the curiosity of newcomers, to satisfy the thirst for knowledge of enthusiasts. This village offers free activities for the whole family as well as for the welfare of the horse. This is a novelty where horses can come and rest, walk around the Champ de Mars with a special paddock where they can come and ride, where they can get massages… We also organized animal communication workshops so that the public can also understand the psychology of animals. We are inviting speakers to explain how a horse thinks, how to know if it is doing well, if it has signs of stress… The idea is to celebrate horses and nature. This year we are organizing the Banc à lire association. These are the benches on which the books displayed in the village will be painted. At the exhibitions we will have Roxane Depardieu in nature, Marin Ussedik, horse designer, as well as an exhibition of photographs by Sylvie Cooperi. The goal is to always keep up the theme of nature, protect animals and try to educate the general public.
lLast year, given the construction of the Ephemeral Palace, the event moved closer to the Eiffel Tower. How do you rate the 2021 edition and can we expect any adjustments in 2022?
A very positive result was the return of partners, sponsors and the public, who came in large numbers, as the stands filled up very quickly, knowing that we have a capacity of a thousand people. This year we have expanded the track, the paddock, the village and added many more exhibitors and events. The idea is to show the equestrian world in all its diversity.
The 2022 edition is finally a form of returning to normal after two very difficult and stressful years for the organizers of the competition. What does this mean for you?
This is a return to life and a celebration. Tell yourself that the present moment is beautiful, that you should live it with joy. We should try not to go back to overconsumption when we have learned to live with much less. We must listen to what nature tells us. Nature, which can no longer take this away from us, can no longer give all that we ask of it. The environmentally responsible aspect is extremely important; you have to understand that you have to save water, light… We can be just as happy without consuming so much, that's a lesson I've learned. The most beautiful thing in life is the freedom to move, party, meet people, share and make connections. This is what we missed, not compulsive consumption, unnecessary air travel, lightning trips… The trip is to be savored and it takes time to experience things intensely. This is the message I want to convey at my event! We have to react, I believe in people, I really want everyone to react.
Edward Levy and Camille Cerf are the two representatives of this year's Longines Paris Eiffel Jumping. Why did you make this choice?
First of all, I like to choose a man and a woman as ambassadors. Camille Cerf, it was the feminine and digital side of communication that is very important today. He is more orientedLifestylea horse in general, but not specifically a sport.
On the other hand, I really wanted a star rider. Edward Levy won because he is young, he won a lot last year and was happy to wear the colors of this tournament. It's important to have those two sides every time, I hope Camille makes people who don't know horses want to come to this event and Edward talks to the most passionate people who shouldn't be neglected.
---
---
"We expect about ten thousand people a day"
During the Grand Prix, if the jump-off had to face Edward Levy and Rebeca L.S., recent winners of their first CSI 5* Grand Prix in Grimaud, Kevin Stout and Cheppette, of which you are one of the co-owners, and who brilliantly won the Saut Hermès main tournament, who will you encourage?
It's difficult, I would support both. If it's a double jump, that's fantastic because I'll have two chances to win! Moreover, the story with Cheppetta is crazy, she really decided to return to the competition, this great champion was not ready to become a mother. One way or another, I would be happy, I would have two chances, and it would be a dream.
As for the program, it seems that there will be more shows and entertainment than ever: Cadre Noir de Saumur, Santi Serra, a pony carousel with the Brimborion club, a demonstration of archery on horseback? Did you feel this demand from the Parisian public?
Yes, the idea is to talk to people who are into sports, but not only. There will be a lot of variety in the show, it will go in all directions, but this is the side of fireworks that I like. The free event, open to all in Paris, is the perfect place to showcase the diversity of equestrian sports. The Eiffel route is also proof of this. We honor all races, all rider levels, all social levels. This is beer.
Have you tried archery yourself?
No, never, but I would love to! In fact, I feel a bit like an Amazon. I have a women's team and I believe in women. I have eighty percent women on my team, which is a blessing, because sisterhood is something extremely important.
That's why I like this sport, it's mixed. It is feminine and masculine both on the part of the riders and on the part of the horses. This is one of the treasures of our sport, this mixture of men and women and different generations. We see eighteen-year-old children in front of John Whitaker, who is sixty-six.
What does the Eiffel Road symbolize for you?
It represents this openness to the world of horses for everyone, for all riders from different social backgrounds. On Friday we will discover the forest of Rambouillet, because there is nothing better than to explore nature on horseback. On Sunday it is the turn of Montmartre on horseback with the opening of the city. Last year the racers of the Eiffel circuit said that the reception of the residents was exceptional. People rejoice when they ride on horseback, they applaud. We understand that people on horseback perceive us differently. Relations immediately began. I have always said that the horse is a vector of social connections, and this is absolutely true. There is this fabulous side of the horse that is gorgeous!
Could you tell us about the Jean Rochefort Prize?
This is a prize that is very close to my heart because Jin has always accompanied me. He was always there for competitions, we talked about it a lot and I was very close with his wife Françoise and also with his daughter Louise, a very good racer. For me, this is a way to continue the story with him, to keep him alive, to perpetuate his values, to mix the equestrian world with the world of art. This award is important for journalists because they also bring the event to life. It's a way to honor Jean and honor the photographers who win the prize each year with a different theme. And it's very nice to be on the jury, I want to continue this tradition.
Have you entrusted this year's competition poster to a new artist, and if so, how did you make your choice?
The idea is to find someone different each time. We had artists, photographers, and this time I wanted an animator. Jules immediately imposed himself. I really wanted him to make a poster and it really has nothing to do with the rest. It's fun because again I'm interested in diversity. On Sunday afternoon, I will try to bring together all the artists who made the poster, and soon by the tenth anniversary, we will be able to organize a beautiful exhibition with ten posters. It's a bit of a headache every year, but it's part of the competition's DNA that I absolutely want to keep.
How many viewers do you expect on this episode? What is the pricing policy and what will be the conditions?
We expect about ten thousand people a day. I think we should greet a lot of people this year as we are closer to the Eiffel Tower and right in the middle of the Champ de Mars. We still have the same system with free and paid sides. When buying a ticket, people will definitely get a seat, and you will have to stand in line to get a seat in the free part. There is also an entire Pavillon Eiffel section where we welcome superb star chef Helene Darroz. Like every year, there will be empty seats and others more exclusive, with tables from a pop-up gastronomic restaurant run by a celebrity chef. First of all, I am very happy to be able to continue this adventure with Longines, who supports us in all discussions, new ideas, positioning…
You are very attached to the concept of sustainable development. Have you taken that process a little further this year?
Every year we take this approach a little further. This year we have revised the choice of service providers, for example, a short circuit with food. For the village, we have attracted the attention of the people we work with. We also pay attention to packaging and contents, to short circuits and seasonal products… At all stands, we try to ensure that this discourse is consistent with the exhibitors. We also set up a whole range of works on water, travel, etc. Our event does not offer shuttles, riders come on foot or bikes, visitors come by metro as there is no parking. We try to encourage people to use public transport. It's all about mentality.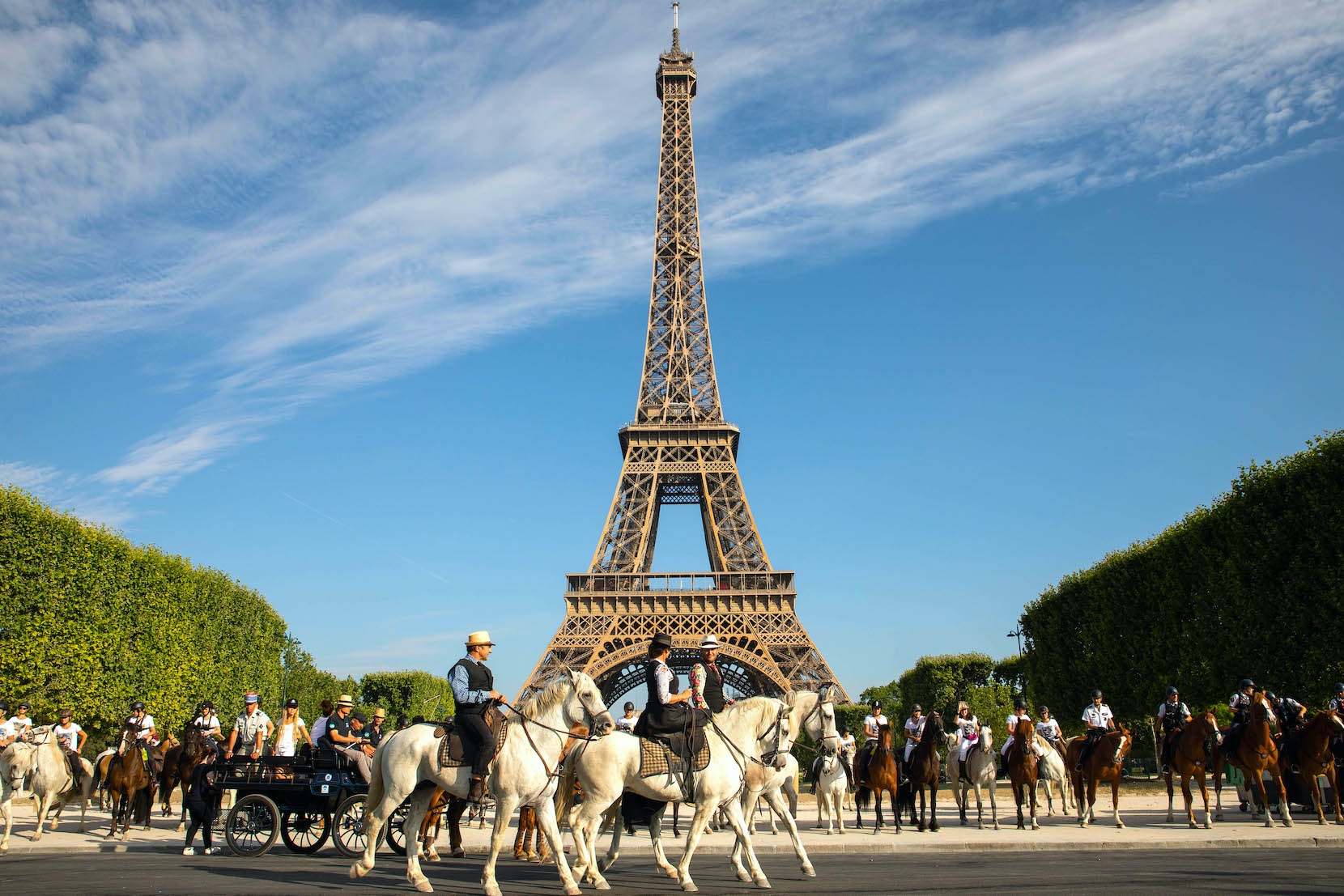 ---
---
---