>>Seizure of 8.8 tons of pangolin scales and ivory
>> In Gabon, sales of pangolins fell due to coronavirus
>> Hundreds of thousands of pangolins are illegally traded around the world
Pangolin Stevie is looking for food as part of a rehabilitation program in South Africa.
Photo: AFP/VNA/CVN
The temperature in the room is cool, like in a hole. At this veterinary hospital near Johannesburg, Lambie the lizard is closely monitored while he drinks a protein shake from a syringe and receives his daily dose of medication.
Like many of his kind, he is treated at this facility, which specializes in the protection of native species, after being rescued from human traffickers during a police operation. The address is kept secret to avoid potential poachers.
"It's like resuscitation for pangolins" who have escaped the worst but are often in poor condition, explains Nikki Wright, one of the veterinarians. Illegally held in captivity for weeks in sacks, traveling in the trunk of cars, they often receive neither water nor food.
Pangolins are among the first victims of the animal trade in South Africa, as well as in neighboring countries such as Namibia, Mozambique and Zimbabwe. Prized for their keratin scales, the same material as human nails, they are sold in Asia for their supposed medicinal properties.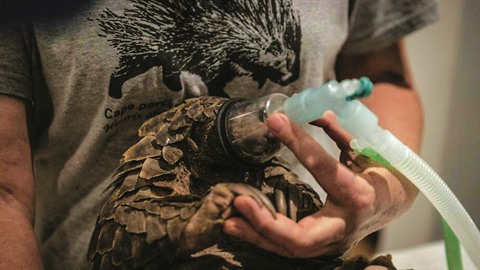 Oral medicine for pangolin in a secret laboratory in South Africa.
Photo: AFP/VNA/CVN
Found in the wild only in Asia and Africa, pangolins are now classified as vulnerable or endangered. The exact number of copies worldwide is unknown.
Here they are taken care of for a few weeks or a few months before they are released. Veterinarians sometimes have to experiment with treatments for this species, which has been around on Earth for about 80 million years but about which little is known medically.
"They are so different from other animals"reports DR. Wright, who worked with pangolins for fifteen years. "The veterinary and rehabilitation process is poorly documented and very little is known about the African species."she adds.
like men
Most often, treatments for other mammals, such as cats and dogs, work well. Sometimes you have to take risks. "It's a bet every time"confesses to Kelsey Skinner while giving Lumby a dose of drugs.
A pangolin specialist, a 30-year-old veterinarian found that, like humans, these nocturnal and solitary insectivores have different personalities. "Some are shy and don't want to be touched. Others are outgoing and play a lot in the mud. she said. Each one is completely unique.".
Last month, Lumby's companion, another pangolin named Steve, was released after making a full recovery. For seven months, volunteer Gareth Thomas walked him weekly in nature to prepare him for freedom. "I've been with him since day one. I was there when they pulled him out of the box the poachers locked him in."he says during one of the last preparatory walks.
In the end, Steve was released six hours away in the Magnoni Reserve. A new animal site of approximately 23,000 ha in southern KwaZulu-Natal (east).
His flight case was open and fitted with an electronic tracking device, Steve stepped out cautiously at first. After sniffing around, he decided to go looking for ants for his daily pennies.
"Now he has all the skills he needs to survive in the wild"cheered Donald Davies of the Zululand Conservation Trust, who oversaw the animal's release.
This process is critical to the survival of the species. "We have to be absolutely sure that they will find the right food and burrows. Otherwise, they will just die."concludes M.me Wright.
.