After Auvers, it was at the Vichy Grand National that Pierre-Marie Friant set off to start the 2022 season. There, the 30-year-old won the flagship Pro Elite event at 1.50m on the reins d'Hurdy d'Astré. In the bridle, the Breton made specific reference to the return to competition of his faithful bay, who had been temporarily removed from the competition due to injury, but also mentioned his picket of young horses he had been working on during the winter break. .
---
---
On Sunday at the Vichy Grand National, you returned to victory with Urdy d'Astrée (SF, Bouffon du Mûrier x Pamphile) by winning the Pro Elite tournament. In what mood were you before the start of the second stage?
I was in a good mood because the horse is doing very well. Urdy had some health issues last year but is back and in great shape. I was just hoping not to go through the same scenario as in Auvers where I failed at the last hurdle. However, I remained quite confident, because Urdy was already jumping very well, both in Auvers and in Vichy. We took care to start the jump-off because the combo that came up pretty quickly was pretty misguided. Otherwise, I rode with confidence in my horse, and this allowed me to catch up with him. At the end of the course, I was delighted because it was a small revenge on Auvers. In addition to winning, I am even more satisfied with Urdi's wonderful behavior.
What lessons have you learned from the start of the season, which started in early February in Rouen?
The Royan Tour is a good start because it allows the horses to get back on track fairly gradually given the large number of events. It was good preparation, which paid off with their performances at the Grand National, where they arrived ready and in good shape. I am impressed.
What horses do you expect more or less soon?
I can always count on Urdy and Bianca Star (SF, Quick Star x Qualisco III) to support him very well and take part in the intermediate competitions. I also have horses in training who will need to compete in major competitions but are not quite ready yet, such as Milo (BWP, v/h Dingenshof), a ten year old gelding, and Bengal du Sellier La (SF, Baloubet du Rouet x Quabri de Lale). Both have a lot of funds, but do not yet have enough experience. At the same time, I am training young horses that will come to step up my stake, such as Heroine de Riverland (SF, Untouchable x Baloubet du Rouet), a five year old blood mare with a lot of qualities, and Galax du Rouet (SF, Lauterbach x Quaprice Boimargot Quincy, a very respectful six year old horse I just picked up. I hope to reach my goals with them. Finally, my old horses, Valkanne Aubourgère (SF, Kannan x Melkior du Montois) and Dalhia de la Chapelle (SF, Eldorado de Hus x Val de Saire), are still very competitive in slightly smaller classes.
Can you show us your system?
I took over the family stable and work with my father (Jacques Friant, editor's note) who was the rider. I have a great team around me that I can really count on, especially the riders who help me with my work and walking the horses. Between young and less young, I often go to competitions. In my absence, my father takes over and oversees the entire organization. My fiancé Gaetan always accompanies me at competitions. I am also lucky that I can count on owners who trust me. I don't own horses, only for work, improvement or trade.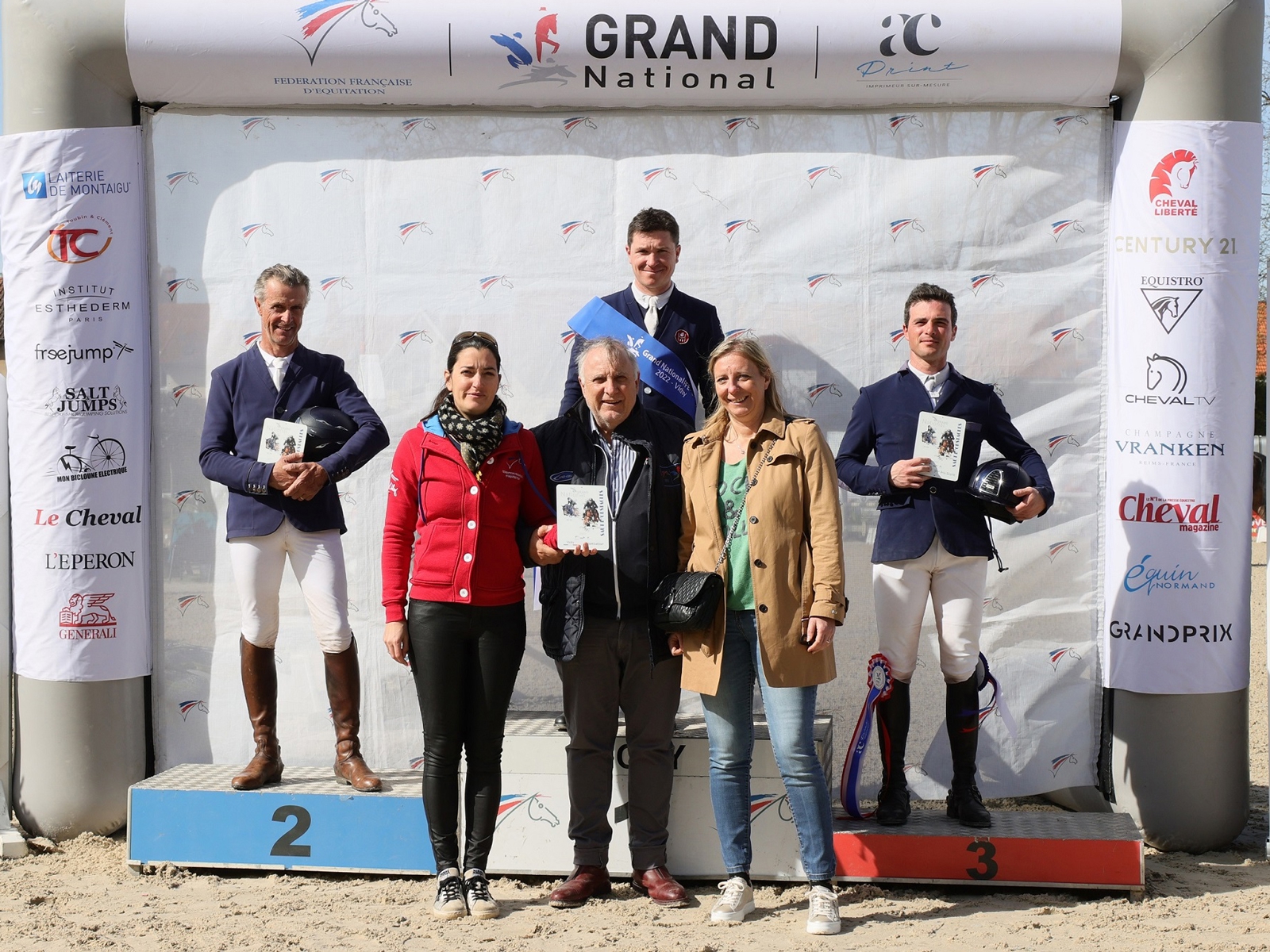 ---
---
"I always use the winter holidays to perfect my young horses"
What are your next goals?
I'm going to Saint Lo this weekend and will go to the French Pro Championship with Urdi from 20th to 24th April. I would love to go back to La Baule because the horse is doing well, he is taking his place regularly, he has the necessary experience, and I am from this region! It is my goal. Then, if everything goes well and in agreement with the coaches, I would like to participate in one or two Nations Cups again. My other horses will follow in Urdy's footsteps, helping him as much as possible because he is able to compete in the big competitions that set the pace of the season for others.
How did you spend your days during winter holidays?
Work on my young horses! (laughs) I have quite a few of them at home, so there is a lot of work. After the start of the season, I am regularly absent due to competitions. In fact, I decided to take advantage of the winter break to move forward with my training so I wouldn't be late when the time came and start the season with horses ready. The truce allows me to find time to take them outside to jump.
You regularly visit the horse masseur Prescilla Jaffre. What importance do you place on the welfare of your horses and how do you benefit from it?
Experience shows that my horses benefit greatly from the training. They are regularly monitored by an osteopath and physiotherapist because the slightest sign of discomfort that could make them less competitive must be quickly addressed. It's like for people. At a high level, the well-being of horses is essential to maintaining their mental health and performance. I attach great importance to this and consider it normal. For example, Urdi had minor health problems, including joint problems. It was not serious, but he is so sensitive and delicate that he can escalate, and I immediately feel it in his behavior. Also, he competed less last year because I knew he wasn't 100%. Now that we've found solutions, it behaves like a charm and that's the most important thing for me.
In February, you discovered the world of racing at the Hippodrome de Royan. Tell us about this experience…
I was able to live this experience thanks to the friends and owners that we have with Guillaume Macher. This gentleman is a great lover of horses, and he is charming! When he found out that I was a rider, he invited me to his stable to discover the world of racing. Riding in training was a great experience and I was even allowed to overcome obstacles. I will never forget him. This is very different from ours, with the front balance accentuated by the fact that the shoes are very short.
Are you interested in politics? If so, what topics are close to you? Will you vote in the second round of the presidential election?
I don't really care, but I'll vote unless I'm in the contest! (laughs)
---
---
---