After starting the season in Spain and then in Italy, Megan Moissonnier decided to take part in the CSI in Grimaud on the Côte d'Azur. Among world-famous riders, the young 24-year-old Amazon proved her talent with unmistakable laps. On the rise, Rhônalpine aims to be more regular at this level, with the first online qualifier for the mythical CSIO in La Baule taking place May 5-8. Meeting April 16 at Hubside Jumping, the 24-year-old Amazon answered questions THE GRAND PRIX.
---
---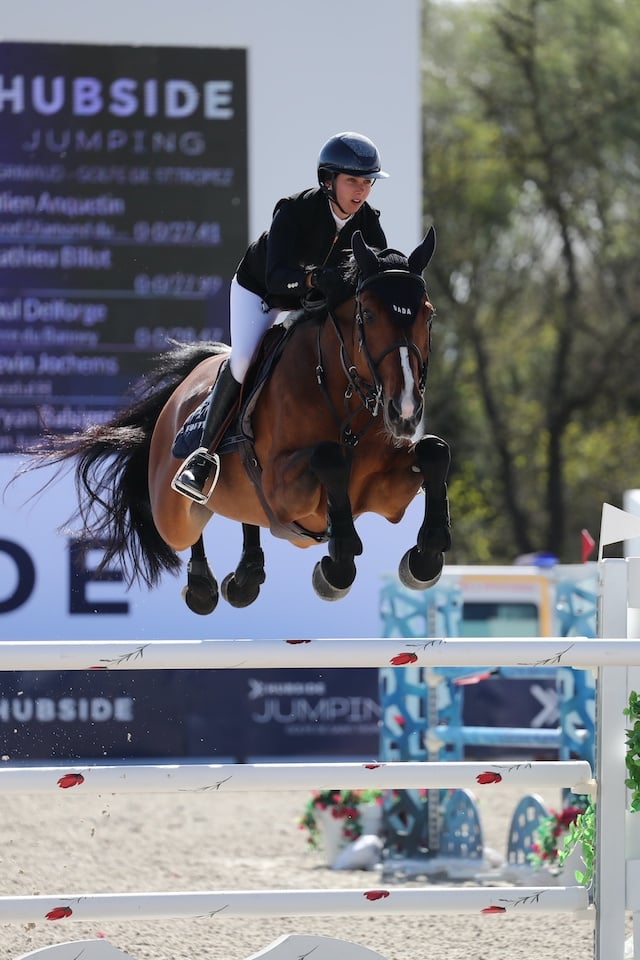 How does hubside jumping work for you and your horses?
Hubside jumping went well overall. I was already present last week and achieved a double clean round in two Grand Prix (finished eighth in the CSI 2* Grand Prix with Caballero and eighth in the CSI 3* Grand Prix with Bracadabra, editor's note). It's already been a good week. This week (interview taken on Saturday, April 16, ed.)I have changed horses since I took Cordial (Holst, Casall x Chicago Z), my lead horse and Baladin of Mathis (SF, Padok du Plessis x Trezor de Cheux). Everything went very well today as Baladin is classified in the 1.45m. (double clean round and tenth, editor's note) and Bracadabra (SF, Pacific des Essarts x Couleur Rubin) again in the 1.50m jump-off. (finishes seventh, ed.). It's a pretty good day.
You made two great performances this Saturday, April 16th. Can you get back to your routes and jump?
Baladin is a horse I rode before, about two years ago. Then he went to Nicolas Delmotte. So I'm re-learning how to open it, because it has changed quite a bit. I try to go faster and faster in tests little by little, but I'm still reasonable (laughs). Still, it was a very good course. Bracadabra jumped very well in the 1.50m class. During the jump-off we made the mistake of trying to compete a bit with the other competitors, but I don't have the experience of the best riders present. By trying, we are learning!
You started your season at Oliva, then at Arezzo before moving on to Grimaud. How do you rate the start of the season?
This is a great start. We really got the horses back on the road in Oliva without jumping too high and getting to know them as I had quite a few new ones. Little by little we climb the stairs, and everything is going very well. I think I'm having a pretty good start to the year.
---
---
"I have never ridden a horse like Cordial"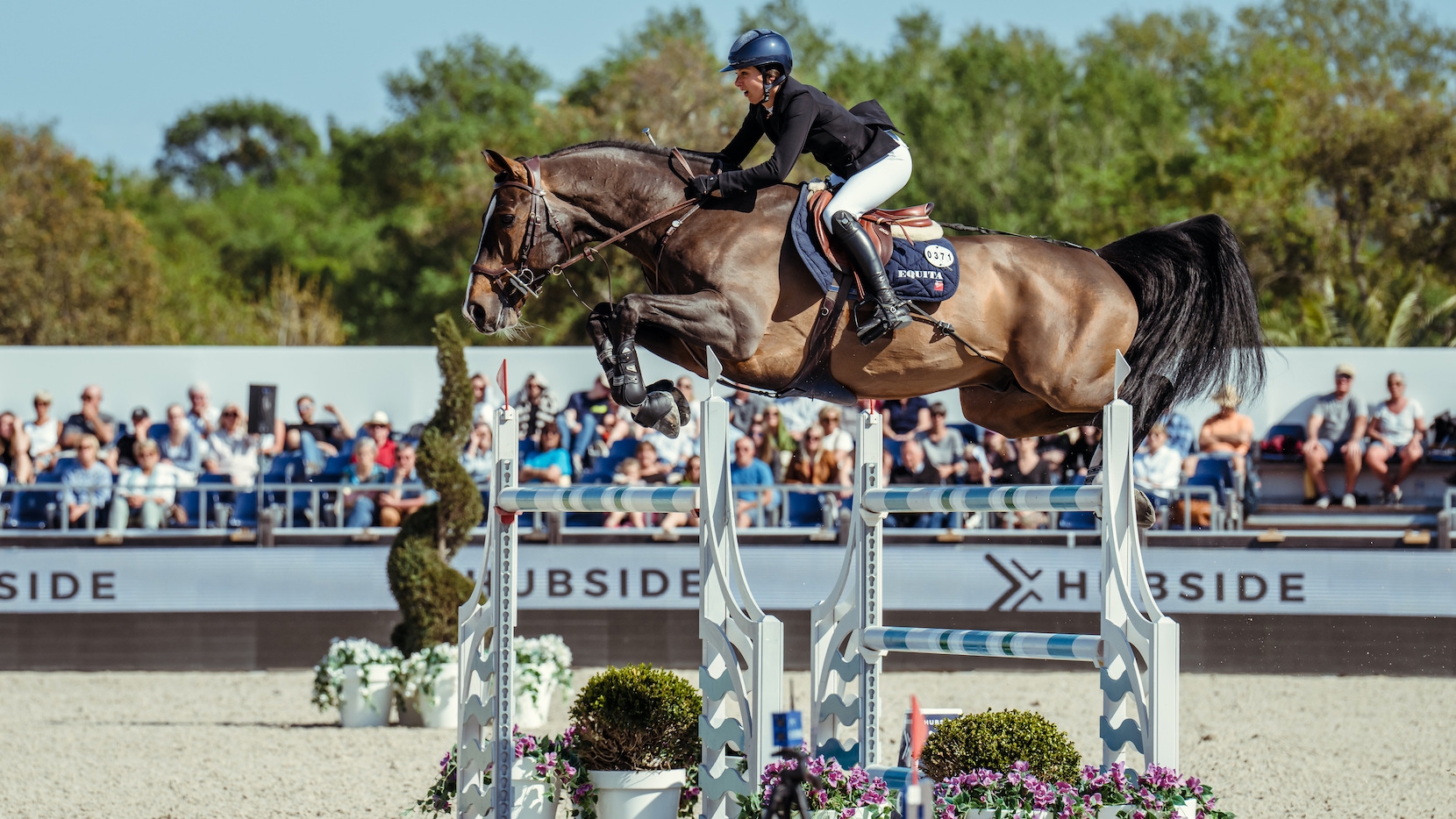 How would you define Cordial as your main horse? What are your goals with this horse?
This is stallion love (laughs)! He is very cute and you can read his emotions just by looking at him. By the way, he rides amazing, I think it shows (laughs)! I have never ridden a horse like him, with such strength and character, but always striving to excel. Next week he will take part in the CSI 4* in Fontainebleau. In the near future we would like to have the opportunity to participate in the CSIO La Baule (which will be held from 5 to 8 May, approx. ed.). At the moment this is yet to be seen, but it is our immediate goal! Then I plan to have great Grand Prix at the CSI 4* and 5* level, taking more regular places.
Barcadabra and Caballero (Holst, Casall x Esteban XX) seem to be moving up the ranks too, what is their potential?
Bracadabra has already proved this to some extent. He achieved a double clean round in the 4* Grand Prix here at Grimaud. (ranked fourth in September 2020, ed.) after that he was wounded. Thus, it has been a year and a half since he competed in the 1.50 meters. this is Lawrence (Guillet, editor's note) who switched to him at the beginning of the season, since he is his horse. Then, coincidentally, Laurent had a lot of work to do and I brought him back. We're looking forward to the French Pro Elite Championship next week, so I think it's ready! As for him, Caballero is a bit more difficult to manage, but now I know him very well. He has great potential. You must accept it as it is. I think you have to like him to get good results with him. But in recent months he has improved a lot. We really have high hopes for him.
What horses can you also rely on?
I can also count on Gravity LCH (KWPN, Andiamo x Cardento) that I ride Oliva at the beginning of the season. This is the horse of Philippe Leoni, who has already participated in several major competitions at 1.50 m. Gradually we start to get to know each other and get along well. I was lucky, I now have a good line of horses. I also have Ozzy vd Bisschop (Z, Diamond of Semilly x Utrillo van de Heffink) who is only eight years old but will do slightly better this season. Then I have seven-year-old horses.
Did you hear from Illusion Cl (KWPN, Arezzo VDL x Ukato) who left your stable in December?
Didn't really get any news but I looked it up on my own (laughs). I saw him compete in the 1.35m in the United States and his rider seemed delighted. I looked at some photos and videos and was happy to see that the horse was doing well.
---
---
"I have a place on this level"
What is your competition schedule for the coming weeks?
We're going to Fontainebleau, then we hope we can go to La Baule. Otherwise we will go to CSI 3* in Nancy. After that we will return here to Grimaud, then we will go to CSI 4* Bourg-en-Bresse. (scheduled from May 18 to May 22, ed.).
What are your ambitions for this season?
I didn't set myself a specific goal. I would just like to keep pushing at CSI like Grimaud, where there is a really outstanding lineup of riders. Being able to match them is a bonus! This allows me to see where I am in my progress. It's really nice, and for progress it's great!
Have your performances at the highest level allowed you to gain confidence against the greatest riders?
Yes, definitely, especially with Cordial, I tell myself that I'm not here in vain and that I still have my place at this level. True, I'm still a little behind in stopwatches, but I think it will come!
In the long term, what are your goals?
Like all riders, I think: to participate in the Cups of Nations and major championships. To participate in any major championship and be able to win medals makes me dream. There are of course the Olympics, but this is something else!
Last year you took part in the World Cup in Lyon. How do you evaluate the final, which took place last week in Leipzig?
I didn't really follow the competition, but I was able to see the results.
Who was your favorite racer?
Martin Fuchs! He was already leaderand even before leaving, I think a lot of people bet on him, and in the end he won!
Which riders will surprise?
Two British racing drivers, Harry Charles and Jack Whitaker. We already know that they are very good riders, but achieving a good result was not a foregone conclusion. I am very happy for them.
---
---
---