Stéphane Gale and Eglantine Touchet use horse energy on their farm for dairy production and horticulture. "A pleasure, but also a more sustainable way of producing," they say.
Currently, seven horses and a donkey are present at the Ferme du Guyoult at La Boussac (35), run by Stephane Galais and Eglantine Touchet. On the 25 ha SAU, they also raise Breton black piebald cows (12 cows) and grow vegetables on 2 ha with a 600 m2 tunnel. "We offer about forty different vegetables: onions, leeks, potatoes, gherkins… Milk is processed into dairy products such as cheeses, yoghurts, gwels. We sell everything directly in Amapa, in shops, in markets," the farmers specify.
On the farm, three horses, usually females, work alongside the pair, helping them transport water or manure, plowing, preparing the beds, or loosening. "In the neighborhood we have some young people to renovate and pensioners…" Breton team horses, except for one fjord. Less imposing, it is easier to use in greenhouses.
The horses are led by Stefan Gale, who also deals with horse behavior. "We must first educate them, and then keep in touch with them, appreciate their work," he emphasizes. The horse attains working maturity at seven years of age and provides optimum performance up to an average of 15 years. The breeder will train mules that show longer lifespans "in their prime at 20-25 years of age. »
As part of the 2nd edition of the Salon à la ferme organized by Confédération paysanne, Stephane Galé and Eglantine Touchet opened their doors on 28 February for a conference-debate on the theme "Animal energy, future energy? "Using it could help solve problems related to climate, fossil fuel resources, soil compaction…," several participants elaborated. Of course, horses need additional surfaces to eat, "but this grass energy is renewable and local. And they provide fertilizer , have a positive effect on crop rotation.
Worldwide, a third of horse-drawn farmers
It should be noted that in the world of 1.3 billion farmers, a third work on animal traction and less than 3% on tractors, the rest work manually. "Our society sees modernity in endless technological progress. In our view, it should rather provide solutions to contextual problems," says Stephane Gale, who is campaigning within the Paysanne Confédération paysanne for animal traction to be recognized as renewable energy and subsidized, "as new technologies can be. »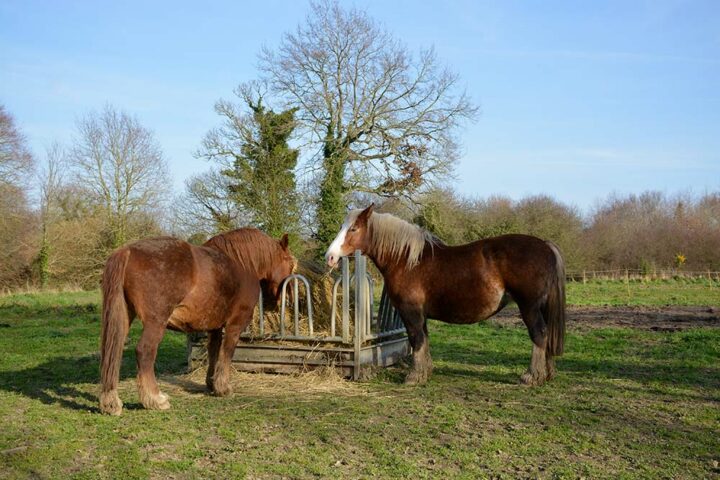 More horses in the vineyards
However, he does not want to be dogmatic. "In addition to horses, the farm has a tractor. They can live together, use the same trailed implements, but as soon as lifting is necessary, the horses are finished. It should be easier to have the right tools…"
Stefan Gale also points out that the financial weight of horses is less important for smaller structures, with prices ranging from 3,500 to 7,000 euros for a trained horse. "Now there is not enough of it, and breeders are getting older…" In the vineyards, "needs are growing with the development of biodynamics. We must create a sector in order to better organize," the farmer wishes.
"A production method that makes sense"
Having settled in Dolo (22 years old) with his wife on 8 hectares, Fabien Rouvre also uses horses on his farm, in gardening and breeding Breton black piebalds. "The transition to 100% animal traction has become a challenge. I bought an auxiliary engine to increase my autonomy. I use horses for horticulture and am currently looking for hay solutions; I manage to dry and rake, but not yet mow and bale," he says. "The place of animal husbandry was important in our project," recalls Gabriel Khingan, who in 2018 settled with his partner in the city of Plevenon (22 years old). With a 4 ha SMR, 1 ha of vegetables and 0.5 ha of berries are cultivated and, for example, hoeing is carried out with the help of horses. "We don't have a tractor on the farm, but we borrowed it from neighbors for hay and manure. "Working with horses takes more time. "In order to keep this production method that makes sense to us, we are thinking about marketing methods to improve it. »
Promotion through the label "Faire à cheval"
The three farms of Stéphane Galé, Fabien Rouvre and Gabriel Engan have the brand "Faire à cheval", created three years ago and aimed at promoting activities carried out with working horses. This indicates the use of animals in good conditions. Awarded by a jury composed of members and professionals of the Faire à cheval network, this label can also be used by communities on certain sites supported by horses… Sometimes the horse is a vector of social connections, as in the city of La Buexière (35). "We arranged for the watering of the flowers with volunteers who were assisted by a horse. He also takes care of school transport once a week and walks," explains Gerard Besel, who is in charge of this activity.