Advertising article
Did you know that Quebec is the only walled city north of Mexico City? The Canadian city, rich in more than four centuries of history, is the cradle of French America. Infused with Native American, French and British influences, it offers a welcoming setting to relax between historic discoveries, wide open spaces and a laid-back lifestyle. Founded in 1608 on the St. Lawrence River, it is also the starting point for responsible water routes. Responsible? Yes: because in response to the need to reduce the environmental impact of tourism and have an increasingly positive impact on local communities, sustainable tourism is taking its first steps in the region. Set off to conquer the East, for 8 or 15 days: the northern and southern shores of St. Lawrence are available to you!
Nature: luxurious landscapes and active recreation
Departing from Quebec, and sometimes as far as the Gulf of St. Lawrence, where the majestic river meets the ocean, responsible routes and activities have been developed to discover the great Orient along the water. From Quebec to the Magdalen Islands via the Rivière du Loup. On the north coast, it is impossible to resist the call of Lac Saint-Jean, a true inland sea. You will reach there through the Jacques-Cartier National Park, which is not to be missed. 30 minutes from the ramparts of Quebec, it stretches for 670 km2 in the country's most beautiful glacial valley: hiking, mountain biking or river rafting in the heart of a lush forest will leave indelible memories. Then towards Tadoussac, less than 200 kilometers. Its bay is known as one of the most beautiful in the world and is world renowned for its whale watching. Further east, the Mingan Archipelago National Park reveals its unexpected landscapes and mesmerizing monolithic formations. You will then have to change shores to discover the extraordinary fauna of the Lower St. Lawrence: Razorbills, guillemots, guillemots, black guillemots and common eiders find refuge in the protected environment of the du Bic National Park. Wildlife lovers can head to Gaspesie, in the Ile Bonaventure-et-du-Rocher-Perce National Park. You can admire sea-sculpted rocks and a colony of northern gannets, these seabirds known for their incredible wingspan, blue-gray bills and gray-rimmed eyes.
And to extend your vacation, spend a few days in Quebec and sail along the Isle of Orléans in a sea kayak, preferably at sunset, or, further east, discover Grosse Isles, which in 1832 and 1937 was one of the most important gateways to Canada. Its history is fascinating: it was a quarantine station for European migrants who were looking for a better future in America. Witnesses of that time, the Celtic cross, the district of hospitals and the cemetery of the Irish remind of the past. To find out, all you have to do is let yourself be guided!
Not forgetting the art of living, resting and relaxing
East Quebec is full of magical places. Choose a yurt to immerse yourself in the heart of the Jacques-Cartier National Park, enjoy breathtaking views of the Saint Lawrence River from one of the rooms at the majestic Fairmont le Manoir Richelieu in Charlevoix, book one of three rooms at the Pot à l'Eau-de-Vie lighthouse, or indulge in a healing bubble and develop a deep sense of connection with nature by spending the night in a mini-chalet at Nordique de Stoneham Spa: a few steps from your room you can warm up in the Finnish saunas, Turkish baths or enjoy the clear river water.
At each stage, you can be sure of one thing: wherever you go, you will find a VIP welcome and moments of warm communication with local craftsmen, merchants and restaurateurs. The beautiful streets of Old Quebec are particularly conducive to shopping, and Rue Petit Champlain, one of North America's oldest shopping arteries, is undoubtedly the best place to do so.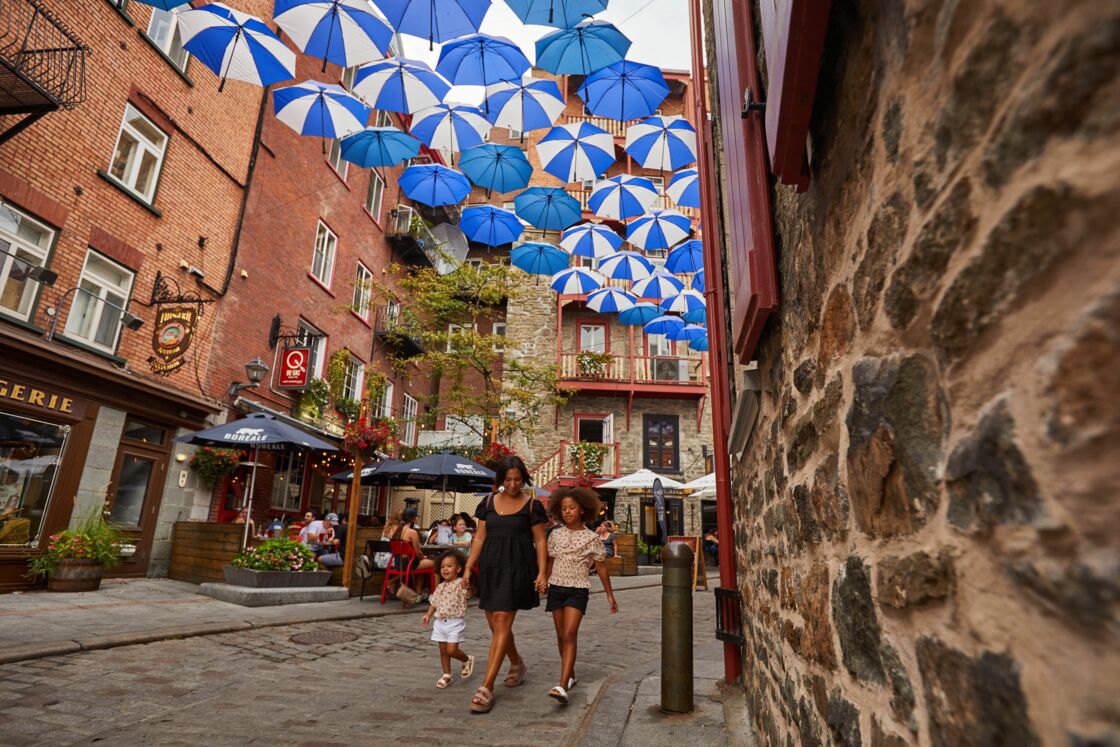 Regardless of the length of your stay, responsible tourism players can recommend accommodation and activities that best suit you. Partnering with local communities and committed to sustainability, they offset travelers' carbon footprint by sometimes planting trees or donating a portion of their sales to the 1% for the planet, while others are active in research and marine protection. mammals.