There is less and less skepticism about the introduction of the horse into viticulture. The benefits are real and demand is growing. The creation of the Ecole Nationale du Cheval Vigneron at Saint-Savin in the Gironde was the logical response.
This new formation has just been born on an area of ​​8 hectares, to which 5 hectares of vineyards must be added, which are used for practical work. Another territory complements the territory of Saint-Savin and is located in Château Soutard, a grand cru class in Saint-Emilion. This school has magnificent horses, young and energetic: Percheron, Ardennes, Comtois, but also neighbors Auxois and Trait du Nord. Horses trained to perform certain tasks in the vineyard.
This school was born under the influence of the French Working Horse Society (SFET). promote young horses, in particular, to more specific performance control and to complete their training in the vineyard: they are made to perform various tillages with tools such as a hoe, a digger, etc. says Magali Bogart, CFET general delegate. This return of draft horses to the vineyards is also an opportunity to conserve breeds that are still " were very small and owe their existence to only a few passionate and sometimes selfless breeders. If the school aims to promote these powerful yet peaceful horses and " ready to use ", it is also aimed at training qualified personnel.
Targeted training courses
There are different categories of people in these formations. Enthusiasts, such as Anna, who has already completed her first course. She is changing her life and wants to organize." family holidays in Corrèze ", with one or more horses owned. There is also a restaurateur from the Quiberon Peninsula, a lover of draft horses, who will lead a horse in his territory.
Viticulture professionals are also clearly concerned, explains Magali Bogart. " A farm manager may have a draft animal integration project in his vineyard. He may choose to lead the horse himself or entrust it to a worker in his domain. There are those who want to get a job as a service provider ». Not all castles have the ability to keep one or two horses during the year. Seasonality also matters. Finally, we must bear in mind that we may not want to leave all the work to horses, but the latter provide additional benefits compared to traditional methods. " The horse will move through heavy, wet soil more easily than a tractor. Magali Bogart assures. The benefits are numerous: less soil compaction, precise work in the vineyard rows, virtually no CO2 emissions, energy from local grass consumption… not to mention the pleasure of being with a magnificent animal. 900 kg or more.
Finally, there is breeders who bring rough horses, who are taught to walk with a halter, snaffle, long reins. The Ecole Nationale du Cheval Vigneron provides the skills to enable these horses to work. We see then how they behave in an effort. These are the goals sums up Magali.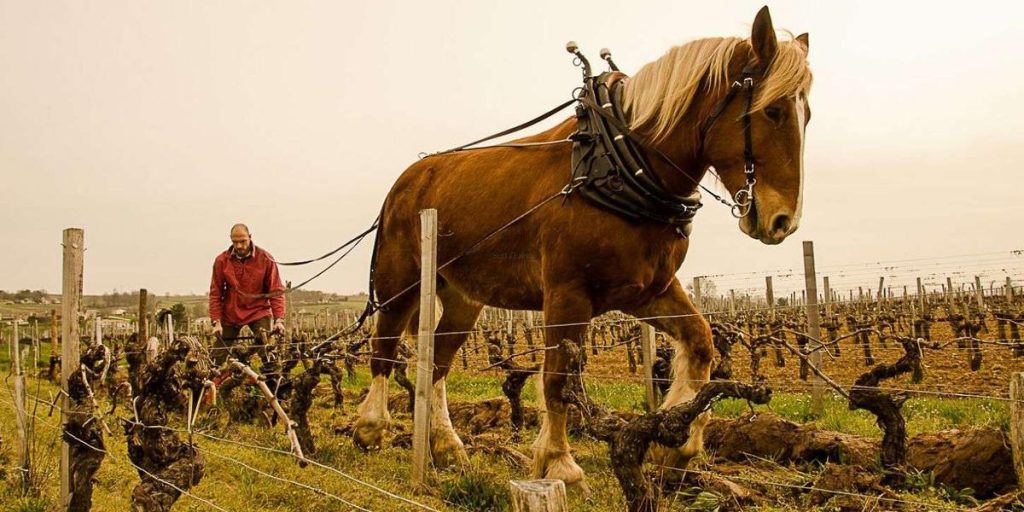 Two types of learning
Initiation of finding a horse in the vineyard: 28 hours.
Improvement of 140 hours, distributed throughout the year and based on the seasonal work of the vine soil, between March and October.
Thus, the equestrian school of winemakers guarantees:
– services in wine castles
– staff training
– horse training
To find out about all the proposed dates, as well as all other training courses organized at the Ecole Nationale du Cheval Vigneron: https://www.festa-formation.fr/