The reasons for grounding are still unknown. Very sociable, these pilot whales can follow members of their group who are lost and in danger.
Only a few of them were saved. Of 226 pilot dolphins found a few days ago off the coast of Tasmania, an island south of Australia, nearly 200 eventually died.
After a long and arduous day, the State Wildlife Service, deployed on the ground in challenging conditions, said on Thursday it had only managed to rescue 32 stranded pilot whales.
"We have refloated the mammals we deemed fit for release," said Sam Thalmann, a marine biologist.
"All issued dolphin pilots are tagged," he added. "Unfortunately, some of them may find themselves stranded, but we expect the vast majority to go back to sea."
Mobilization of residents
In anticipation of the arrival of help, the inhabitants mobilized: they covered the marine mammals with blankets, sprinkled them with buckets of sea water to keep them alive. Unfortunately, several people have already died.
Aerial footage shows dozens of shiny black animals washed up on Ocean Beach along a wide sandy beach that touches the cold waters of the Southern Ocean.
"Unfortunately, the mortality rate from this grounding is high. This is mainly due to the conditions at Ocean Beach," said Brandon Clark, who leads operations. "Environmental conditions, low tides on the open west coast of Ocean Beach certainly have implications for the animals," he added.
Avoid attracting sharks
Efforts will now turn to the serious task of disposing of the bodies of these cetaceans, which must be done safely. Because the remains left in shallow water or on the shore can attract sharks or become carriers of diseases.
"There is still a lot of work to be done to dispose of the carcasses," Sam Thalmann said, adding that "valuable biological samples" need to be taken from the animals.
These samples could help scientists understand how and why "the animals got stuck there." Macquarie Harbor, where the phenomenon occurred, was the scene of another mass stranding nearly two years ago involving about 500 pilot dolphins.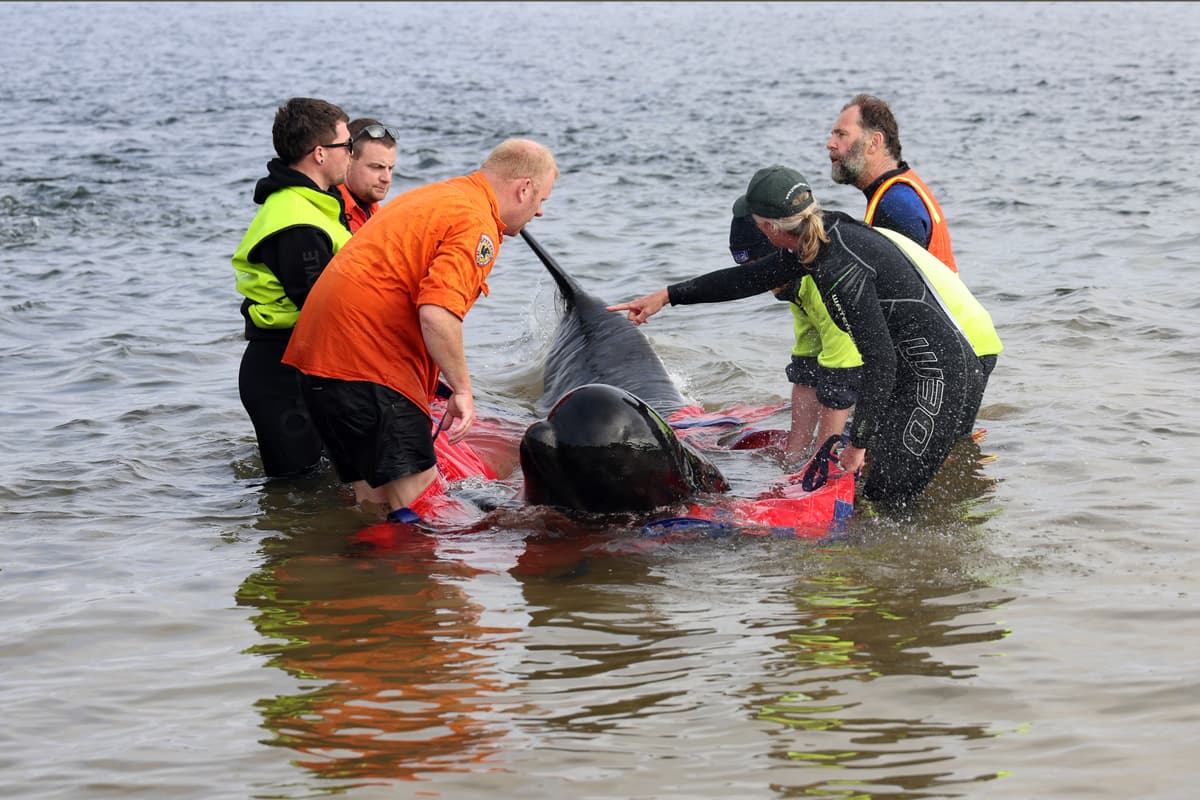 More than 300 of them were then dead, despite the efforts of dozens of volunteers who fought for several days in the icy waters of Tasmania to free the animals.
Possible "accident"
The reasons for these large twists are not fully known. The researchers speculated that they might be caused by groups of cetaceans huddling too close to shore after feeding. These pilot whales, which can grow up to six meters, are very sociable animals and can follow members of their group who are lost and in danger.
Other researchers believe that gently sloping beaches (such as in Tasmania) interfere with the sonar of pilot dolphins and trick them into thinking they are on the high seas. The reason for the death of sperm whales may be an "accident", which refers to the local newspaper "Mercury" biologist Chris Carlyon from the conservation agency of this island nation.
It's "the most common reason for stranding," he explains. "Perhaps they were looking for food near the shore (…) they could be caught at low tide," said the specialist.
Strandings are also common in New Zealand, Australia's neighboring country, where about 300 animals are reported to be affected each year, according to official figures.